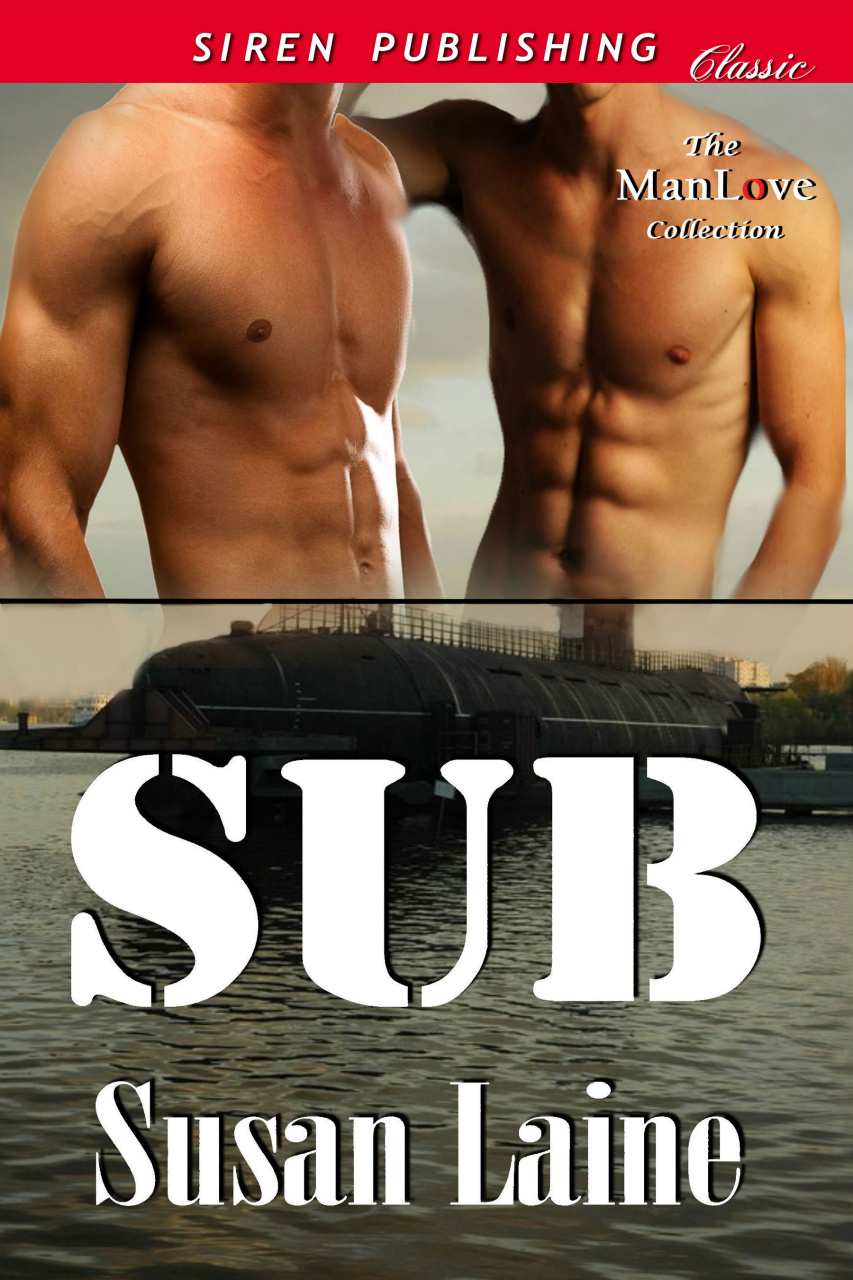 This book, Sub, released on Dec 29, 2011. This is a contemporary M/M romance, the first in the Sailor's Knot series. This is available in e-book formats from Siren Publishing, and in paperback form at Amazon, Barnes & Noble, and other retailers.
Here's the blurb:
"Power play is one thing. Power play through sex is quite another.
David Williams is the captain of a nuclear submarine. He's just been assigned with his new junior officer, Lieutenant Hunter Masters. Due to David's calm demeanor, insubordinate officers are assigned to him for training to become exemplary officers.
Hunter, however, has other plans. Because of his oppressive admiral-father, he's stuck in the navy, where he absolutely doesn't wish to be, so he lashes out. His record shines with disciplinary infractions.
When the cool David and the frustrated Hunter meet, the game is on.
What begins with pranks, taunting, and dares becomes decidedly darker when lust and sex are brought into the mix. Both men trying to gain the upper hand, the games between them spin out of control.
But what happens when the nature of their relationship is exposed—and love is added to the already explosive situation?"
This book centers around the concepts of dominance and submission, and the setting is militaristic.
The idea that a man has to be only one way, either dominant or submissive, didn't sit too well with me, and I wanted to depict a relationship where a man could be both.
In the beginning Hunter is not a likable or approachable person, while David is both. David is the superior officer, and Hunter is his subordinate.
But those positions within the naval hierarchy are far from who they are as people — and as men.
Their reactions to each other are what make the game — of both sex and love.
The word to describe David is cool, and the word to describe Hunter is fiery. They have opposing personalities — and yet complementary desires. For the two of them to find their way together is the heart of the story.
Lastly, I must notify that this novel has quite a bit of head-hopping, so if that turns you off, steer clear. Bear with it, though, because there is a story there.
Enjoy the games!
Five Star Review by Top 2 Bottom Reviews:
"I loved this book! Between the banter and intense chemistry between Hunter and David kept me enthralled with the book from beginning to end. Each time they were together I could feel the desire and love they felt for each other. I liked the dilemma each man had as far as their attraction, as well as their relationship had because of them both being in a situation where their love is definitely forbidden. -- If you are looking for a book that really shows the love, respect and friendship between the two romantic leads, Sub by Susan Laine is definitely the book for you! Highly Recommended!"
Four and a Half Star Review by Sensual Reads:
"Sub was a unique book in as much as you could not put it down and yet it was disjointed in parts. But each outrageous thing Hunter did in his efforts to ruffle David kept you glued to the pages. -- I loved the two men and quickly become involved in the story as they fell in love and did whatever was necessary to ensure the well being of the other. Sexy, hot scenes make the reading fun while the conflicts made you roof for a happy ending. Susan Laine certainly knows how to deliver a satisfying ending to her engaging story, Sub."
Five Star Reviews at My Earnest Reviews.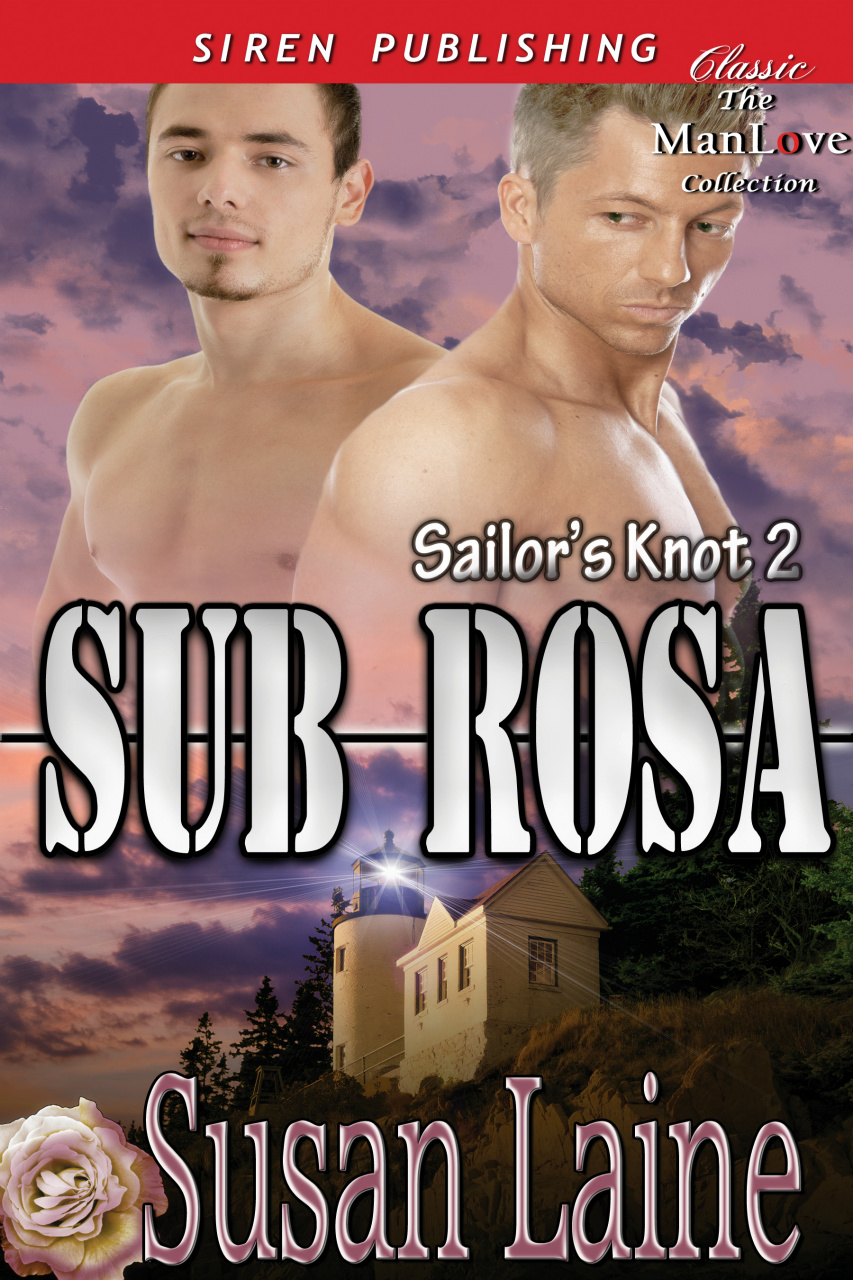 This book, Sub Rosa, released on Nov 14, 2012. This is a contemporary M/M naval romance, the second in the Sailor's Knot series. This is available in e-book formats from Siren Publishing, Amazon, and Barnes & Noble, and other retailers.
Here's the blurb:
"Since the trial-by-fire incident that made them choose life outside the navy, David Williams and Hunter Masters, formerly the captain and the lieutenant of the nuclear submarine Cascade, have been together for a year and a half. And for four of those months they have been a devoted married couple.
Then one day a mysterious love letter arrives in their mailbox, addressed to Hunter from a woman named Megan. Though David finds it hard to believe that his husband would have an affair, let alone with a woman, the letter sparks a whole different kind of fire between the two men who have been in love practically since the day they met.
Setting aside their mistrust and disbelief, they set out together to find out who is behind this mysterious note, and what is the full story of forbidden love hidden under the roses."
Five Star Review by Top 2 Bottom Reviews:
"There is something very special about Susan Laine's books. I love the way she writes romance and I simply adore her characters. They are all well-written, likeable heroes that I would be proud to call a friend in my everyday life. They seem to live and breathe off of the written page and I'm simply addicted to all of them! -- Sub-Rosa is a perfect continuation to a series I truly love! It's a very sweet, passionate and romantic continuation of one of my favorite couples, David and Hunter. I loved how their relationship has progressed and thoroughly enjoyed every scene they had together in the book. -- I know I highly enjoyed every minute of this book and hope that Ms. Laine will write more of this amazing couple on the future. -- Highly Recommended!"
Four Star Review by Coffee Time Romance:
"The love between Hunter and David is a thing of beauty, full of mischief. -- It is so much fun watching them bicker and argue like any old married couple, then make up with blistering passion. They are a blast, and I am certainly looking forward to more of their escapades."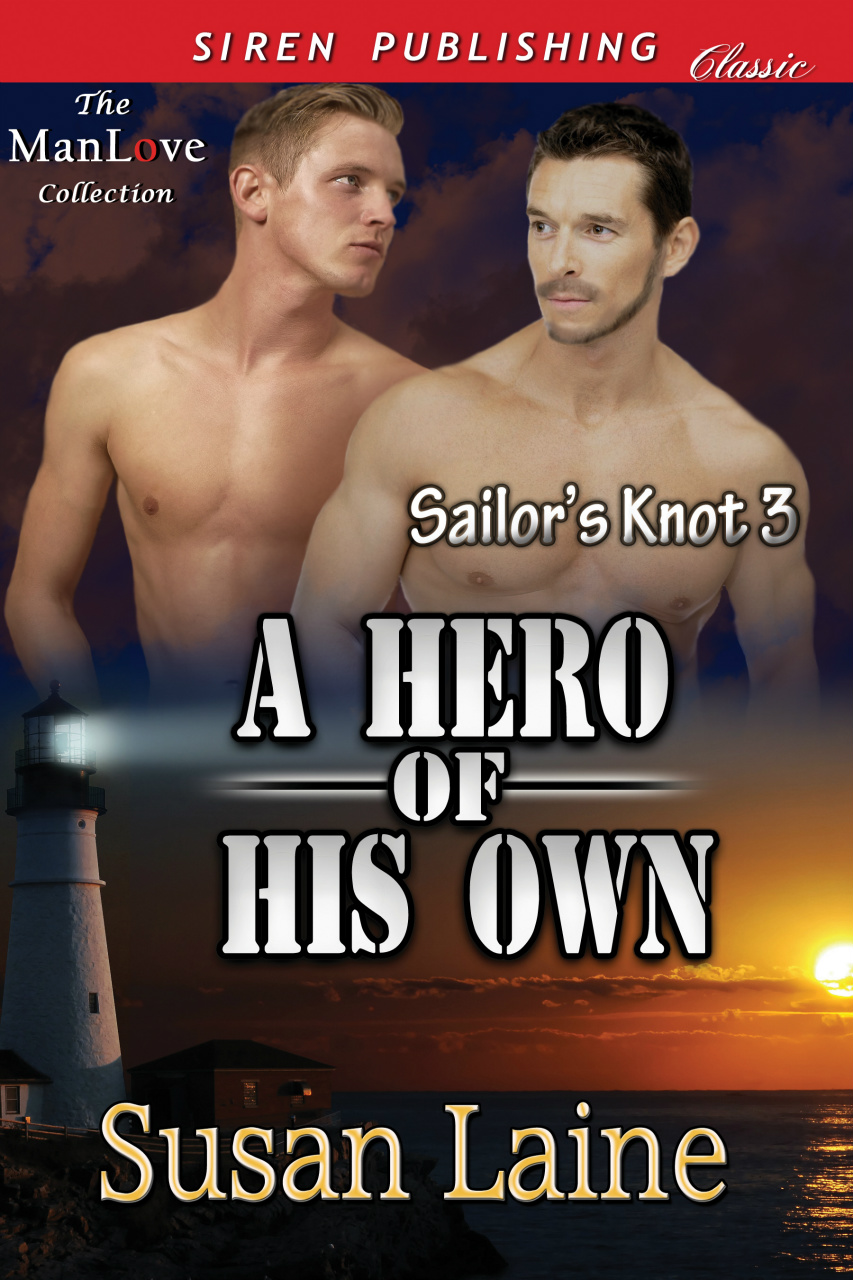 This book, A Hero of His Own, released on Jan 13, 2013. This is a contemporary M/M naval romance, the third in the Sailor's Knot series. This is available in e-book formats from Siren Publishing, Amazon, and Barnes & Noble, and other retailers.
Here's the blurb:
"Dan West is on his way to his friends' place for some R & R from the Navy. But
before he makes it to the small fishing town in Maine, a car accident changes his
destination.
The injured young man, Patrick Prescott, turns out to be the mayor's troubled
son. He needs help, and Dan offers it. As a result, the lives of the two men become
entwined. The old adage of saving someone's life giving you responsibility over
them seems to hold water.
Patrick is haunted by inner demons. His closeted life pushes him to recklessly
pursue Dan at all costs, as though he actively sought his own ruin. But Dan has
his own reasons for coming to meet his former CO, and that does not include
getting in bed with Patrick, since he's not in town to stay.
When two different worlds collide, even two men who are oceans apart in every
sense must find a way to cope—together."
Take a Sneak Peek at A Hero of His Own at ManLove Authors.
Four and a Quarter Star Review by Top 2 Bottom Reviews:
"I loved this book. I liked that both Dan and Patrick realized they must work through their own issues before they could ever be happy together. Even though they are good for each other, they both know if they want something long term together, they must be happy within their own skin. As a reader, I appreciated this and liked how determined both men were to get their own life settled before they could have a commitment to each other. This made the story ring true and realistic to me, because we all know we must be content with ourselves and can't expect our own partner in life to be responsible for our own happiness. -- A Hero of His Own is a fast-paced, thought provoking and romantic story with characters that really live and breathe off of the written page. I enjoyed every minute I spent reading this book and highly anticipate the next book in the series. Highly Recommended!"
Four Star Review by Mrs. Condit & Friends Read Books:
"A Hero of His Own by Susan Laine is the story of a man's chaotic, reckless, and almost suicidal approach to life and the man who shakes him up and pulls him off the path of self-destruction. -- This absolutely beautiful story is both plot AND character driven with characters who are very three dimensional with strengths and flaws that bring it to life. The struggle that Patrick goes through to overcome his demons is heart wrenching but ultimately satisfying as he grows into the man he always wanted to be but was too afraid to try before. The plot flows beautifully from beginning to end with a richly detailed style of writing that is simple but eloquently concise and reveals a glimpse into the darkness of one man's soul and the struggle to emerge out of it. I really love this book and would definitely recommend it to anyone looking for a fascinating way to pass a few hours."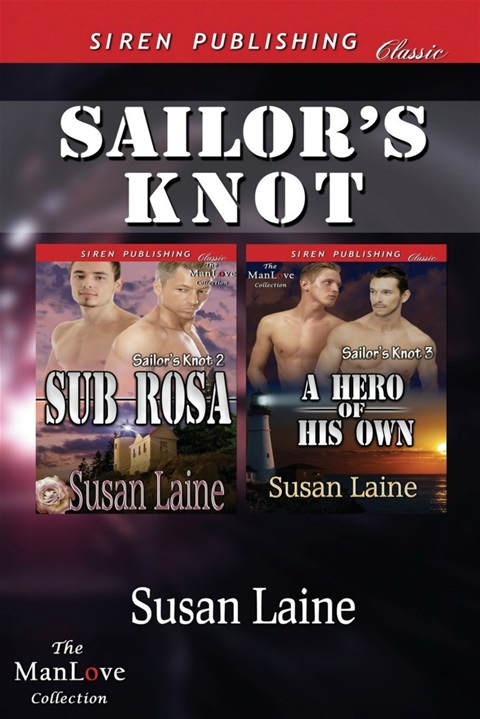 Sailor's Knot Paperback combines Sub Rosa and A Hero of His Own into one book. It came out on Feb 26, 2013. It's available from Amazon, Barnes & Noble, and other retailers. See the individual book blurbs above.